History and Archive
To View the Extensive Archive (See Note* about external links)

• Please click on any of the images below. This will take you our Poynton Players Archive Flickr page where the images are stored.
• Click on Albums from the Flikr menu bar. This will display a number of albums, each one relating to a different period or production.
• Click on the individual album that you would like to view. This will display all the photographs available in this album which you can browse.
• When you have finished browsing a particular album click on the "View all albums" in the menu bar to take you back to the all albums view.
• Simply close your browser to leave the Flickr site.
Recent Productions (most recent first):
Silver Lining - June 2023 - view photos.
Fondly Remembered - April 2023 - view photos.
Triple Play - Feb 2023 - view photos.
Twelfth Night (or Whatever) by William Shakespeare adapted by Peter Lancaster - Dec 2022 - view photos.
Handbagged - March 2022 - view photos.
The Ladykillers - December 2021 - view photos.
The Thrill of Love- February 2020 - view photos.
Season's Greetings - December 2019 - view photos.
Rollercoaster - July 2019 - view photos.
Straight and Narrow - May 2019 - view photos.
Spygame - April 2019- view photos.
Barefoot In The Park - February 2019 - view photos.
One Man, Two Guvnors - November 2018 - view photos.
Confusions - May 2018 - view photos.
Bouncers - March 2018 - view photos.
Party Piece - January 2018 - view photos.
Vicar of Dibley: The Second Coming - October/November 2017 view photos.
The 39 Steps - July 2017 - view photos.
Neighbourhood Watch - April 2017 - view photos.
Ladies in Lavender - February 2017 - view photos.
Vicar of Dibley - November 2016 - view photos.
Cheshire Cats - June 2016 - view photos.
Veronica's Room - February 2016 - view photos.
Sharks in the Custard - December 2015 - view photos.
'Allo 'Allo - November 2015 - view photos.
Passing Strangers - May 2015 - view photos.
Quartet - March 2015 - view photos.
Gaslight - December 2014 - view photos.
A Fine Bright Day - October 2014 - view photos.

The archive is maintained by Poynton Players member Steve Heritage.
Brief History

As far as we can determine Poynton Players was established in 1931 as Poynton Dramatic Society and has remained active in the village since that time.

Records indicate that productions were performed in a number of locations around Poynton, mostly now long gone, but it is clear that from the late 1930s up to the end of 1949 all productions were presented at the Brookfield Cinema on London Road. In fact this is now mentioned on artwork commissioned by Poynton's Aldi Store to commemorate the Brookfield Cinema, which used to be on the supermarket site.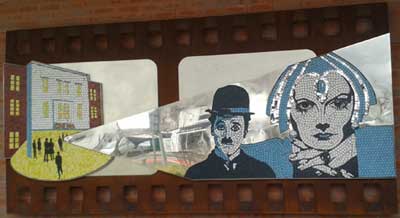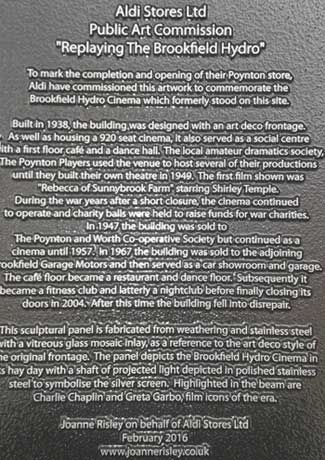 In 1950, following intensive fund raising in the immediate post war years, the society moved to our present home off Georges Road West.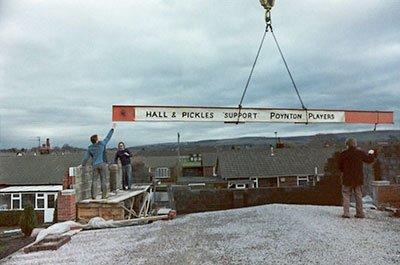 Although photographic records from the early years are sparse, those that we do have been included in this archive together with images of more recent productions and the building of the theatre as you see it today.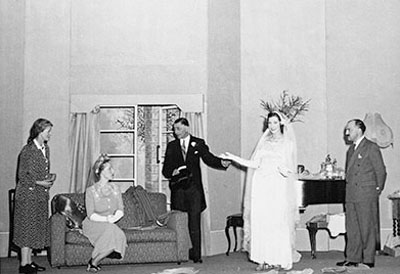 We appreciate that a lot of this record will be mainly of interest to our members past and present but there is also a local social history interest to these images and we hope you will find them interesting.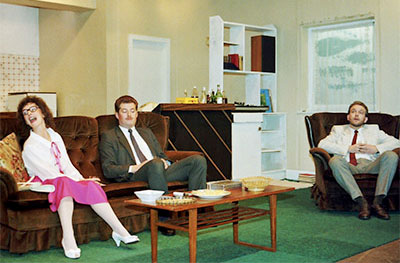 Images have been taken from press cuttings, programmes, productions and simply snapshots taken my members to record activities in and around the society over the years.

Where possible images have been digitally enhanced to improve the detail but as you would expect the quality does vary.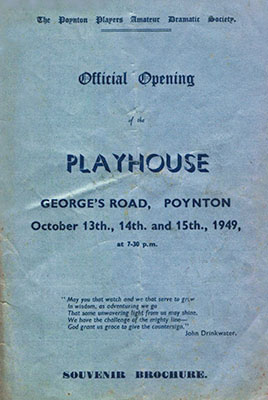 * External Links
Poynton Players Amateur Dramatic Society is not responsible for the content of external websites. Any link to an external website should not be understood to be an endorsement of that website or the site's owners or their photos, images, products or services.