Poynton Players
PRODUCTION CANCELLED
Agatha Crusty and the Village Hall Murders by Derek Webb 23rd May to 28th May 2022

Unfortunately due to unforeseen circumstances it has been neccessary to cancel the forthcoming production of Agatha Crusty and the Village Hall Murders that was due to start on Monday 23rd May and run until Saturday 28th.

Poynton Players thanks you for your support and apologises for any inconvenience that this may cause.

Ticketsource will arrange to refund all tickets purchased through their site.

Poynton Players will arrange refunds for any tickets not purchased through Ticketsource. Please be patient whilst we arrange this.

Thank you for your understanding and continued support.
Marjorie Wadsworth
It is with great sadness that we advise that our great friend and long standing member of the society, Marjorie Wadsworth has recently passed away. Marjorie was our Honorary President and was actively involved in all the society activities until very recently when ill health prevented her from contributing as much as she would like to the hobby that gave her so much enjoyment over very many years. She was a much loved friend and a familiar face to our regular audiences.
We have included a short video with words written by Marjorie herself and includes some photos of her both as an actress and director. Our thoughts and deepest sympathies go out to her family and close friends at this sad time. Rest in Peace Marjorie.
Watch the video here.
---
About Poynton Players
Poynton Players performs 4 productions each year with a balanced selection of comedies, dramas, thrillers, period plays and importantly, new plays, so there is always something for everyone.

Poynton Players was established c.1931 under the name Poynton Dramatic Society and now has excellent facilities including a large stage, state-of-the-art lighting and sound equipment, including an audio loop, a comfortable auditorium, which seats 101 and foyer with a kitchen and bar.
Poynton Theatre and all its facilities is available for hire offering space for conferences, social occasions, exhibitions and touring shows. Why not talk to us and we can tailor a package to suit you.

Email: secretary@poyntonplayers.co.uk

General Enquiries: 01625 783 905 (24 hr answering machine)
Poynton Players' Archive/History
Discover a potted history of Poynton Players and view photographs from previous productions on our Archive page.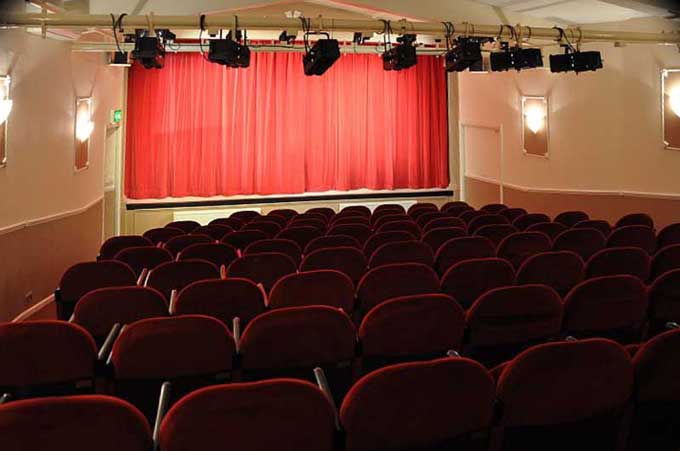 * External Links
Poynton Players Amateur Dramatic Society is not responsible for the content of external websites.

Any link to an external website should not be understood to be an endorsement of that website or the site's owners or their photos, images, products or services.

Find out more details in our Terms and Conditions.